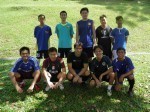 David Tan
Posts: 605
Beatles Euro 2016 match 1 (12 Jun 2016)

In conjunction with the upcoming Euro, Beatles will celebrate the biggest footballing event this June with a Euro 2016 themed match up.

How it works?
1) Vote for the upcoming Euro game you're most excited about at our special poll. Poll will close on 5th June 2016.

2) Register for the game on 12 June 2016.

3) Turn up and play out the chosen game on 12 June 2016!!!

For instance, if the chosen game after the poll is closed is Belgium vs Italy, we'll bring a red (Belgium) and a blue (Italy) strip on 12 June and play out that match ...the Beatles way.

Join us for this special themed event...start registering today!